Mt.Resort ASAHIDAKE
DAISETSUZAN
ASAHIDAKE ROPEWAY
〈Attention〉
The road to Aizankei Onsen is not safe to drive due to road collapse by heavy rain. The hotels in the area are temporarily closed.
〈Notice〉
The Eastern Iburi Earthquake has imposed extensive influence on the area of Hokkaido. We would like to send our best regards to all who had been affected in the event.
Despite of the temporary suspension of ropeway service due to electricity shortage, the ropeway service has now been resumed. Please continue to support us.

Ropeway Operation status
Currently in service
Ropeway operation hours for today2018/09/20

First run


(upward-bound)

6:30

am


Last run


(downward-bound)

5:30

pm
LIVE IMAGES OF MT.ASAHIDAKE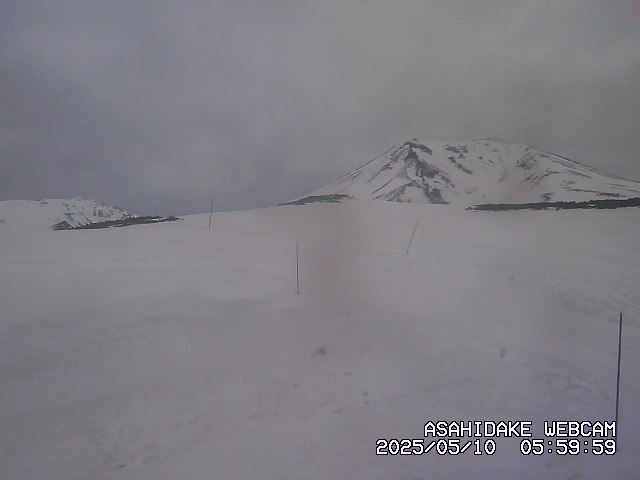 Image from the Summit station(Click to enlarge image)

RIGHT NOW
Current Status of Mt.Asahidake

Current Weather Conditions at Sugatami Station (altitude 1,600m)

September 20, 2018 6:00 am

Weather
Cloudy
Temperature
3℃
Wind Speed
5m/s
Visibility
Poor
Schedules of Ropeway Operation
From June 1 to October 20 : every 15 min. at :00, :15, :30, :45
From October 21, to November 10, From December 11, to May 31 : every 20 min. at : 20 min such as :00, :20, :40
About climbing the Daisetsuzan mountain range
While now it is the popular season to enjoy hiking in the Daisetsuzan Range,visitors are reminded to double check the mountain conditions before you leave to prevent accidents. It should be noted that the weather is unsteady and can change rapidly.Even if it is sunny when you start to climb the mountain, it is not unusual that the weather will suddenly change and the vision can become blurry. During hiking or climbing, if you think that "I do not know the route" or "I got lost" please call the police for help immediately as it is the sign of mountain distress. Please call 110 to report an accident to the police call center for rescue. Careful planning and adequate equipment for winter mountain climbing is required in order to prevent accidents. Always check the local weather and avalanche forecasts before you climb.