Mt.Resort ASAHIDAKE
DAISETSUZAN
ASAHIDAKE ROPEWAY

LIVE IMAGES OF MT.ASAHIDAKE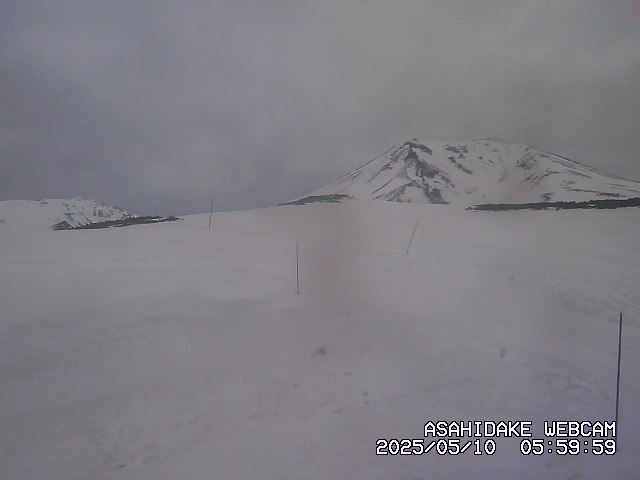 Image from the Summit station
(Click to enlarge image)

RIGHT NOW
Current Status of Mt.Asahidake

Current Weather Conditions at Sugatami Station (altitude 1,600m)

October 21, 2017 3:00 pm

Weather
Sunny
Temperature
9℃
Wind Speed
4m/s
Visibility
Clear
●Schedules of Ropeway Operation
From June 1 to October 20 : every 15 min. at :00, :15, :30, :45
From October 21, to November 10, From December 11, to May 31 : every 20 min. at : 20 min such as :00, :20, :40

Fares (incl. consumption tax)
Fares for individuals
Peak Season (June 1 – Oct 20)
Regular season (Oct 21 – May 31)
Round-trip
One-way
Round-trip
One-way
Junior High School students and older
Peak Season (June 1 – Oct 20)
2,900 yen
1,800 yen
Regular season (Oct 21 – May 31)
1,800 yen
1,200 yen
Elementary students
Peak Season (June 1 – Oct 20)
1,450 yen
900 yen
Regular season (Oct 21 – May 31)
900 yen
600 yen
Fares for groups
Peak Season (June 1 – Oct 20)
Regular season (Oct 21 – May 31)
Round-trip
One-way
Round-trip
One-way
Junior High School students and older

(General)

Peak Season (June 1 – Oct 20)
2,600 yen
1,600 yen
Regular season (Oct 21 – May 31)
1,600 yen
1,100 yen
Elementary students

(General)

Peak Season (June 1 – Oct 20)
1,300 yen
800 yen
Regular season (Oct 21 – May 31)
800 yen
550 yen
Special Fares for Disabled People
(a disability certificate must be shown)
Peak Season (June 1 – Oct 20)
Regular season (Oct 21 – May 31)
Round-trip
One-way
Round-trip
One-way
Junior High School students and older
Peak Season (June 1 – Oct 20)
1,450 yen
900 yen
Regular season (Oct 21 – May 31)
900 yen
600 yen
Elementary students
Peak Season (June 1 – Oct 20)
730 yen
450 yen
Regular season (Oct 21 – May 31)
450 yen
300 yen
Note:
※Payment by credit card is not accepted.
※Children under elementary school age (infants and toddlers) are free of charge. (Limited to one child per adult.)
※Guides for individuals or groups will be charged as adults
※In order to prevent mountain accidents, purchase of upward-bound one-way ticket (From Base station to Sugatami station) are not available after 4pm from June to August and after 3pm from the end of August to October. (The dates and times are subject to change.)
Assistants to disabled people are eligible for the special fares for disabled people (one assistant per disabled person) if the disabled person's certificate specifies that nurse care is required.
※An extra charge may be added for taking bigger size belongings onto the tram car. In some cases, taking the belongings in the tram car may be refused.
※Drivers for sightseeing taxi may ride free of charge if advance notice is provided. Those who do not provide advance notice will be charged.
※For more information, please feel free to contact us at 0166-68-9111.
Mt.Asahidake Ropeway Timetable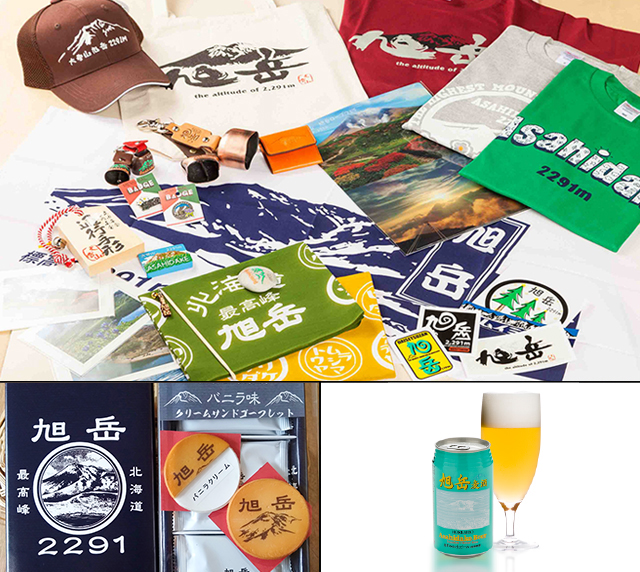 SHOP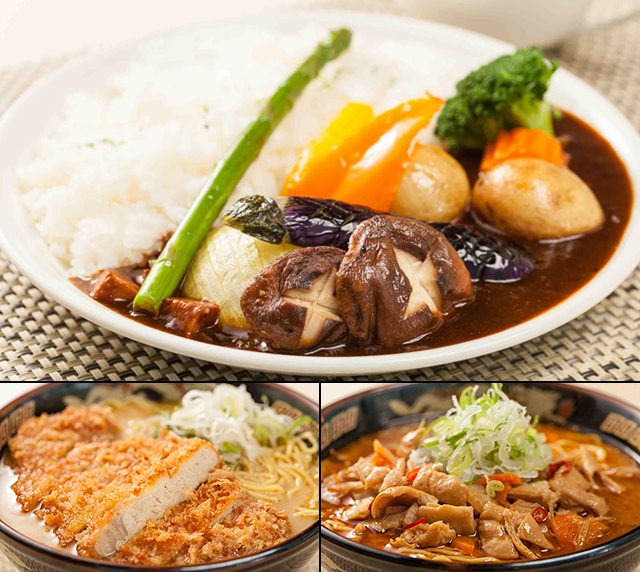 BASE STATION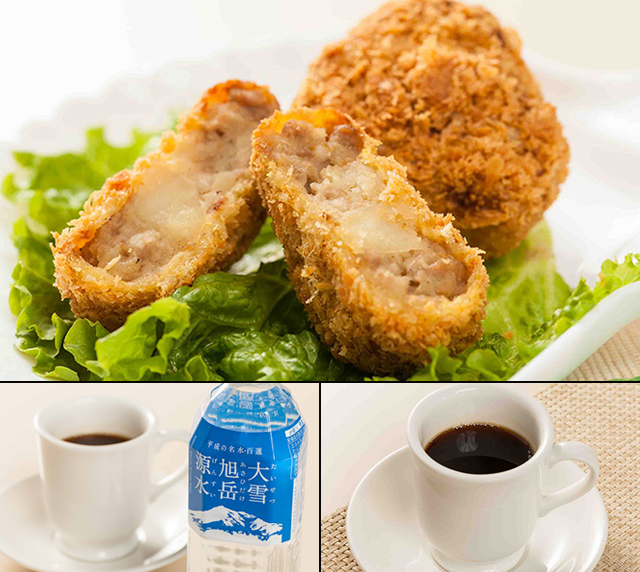 SUMMIT STATION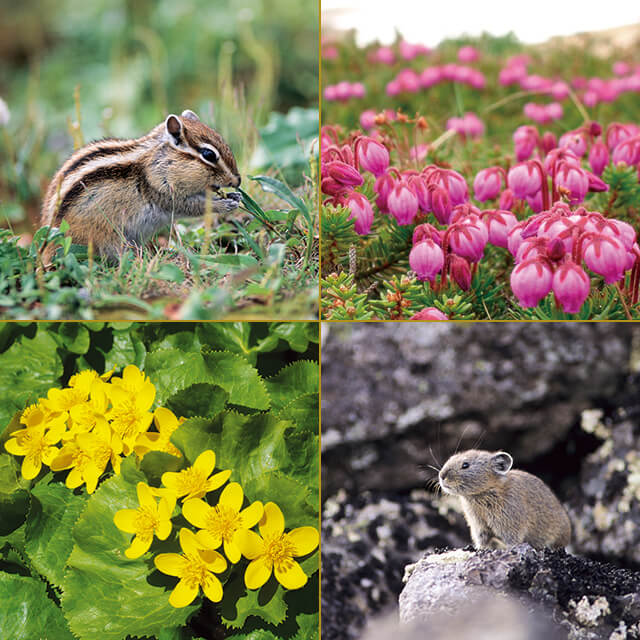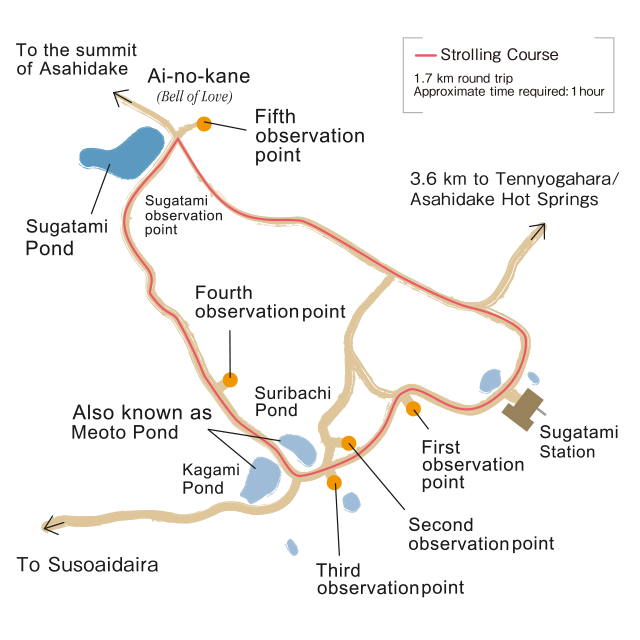 In July, snow is still melting since June along with alpine plants are scattered everywhere and this scene gives us the realization that spring has finally come to Daisetsuzan. This time of the season is very special because the spring landscape transforms into a summer landscape all at once. Naturally, this transition can only be enjoyed for a limited time. The walking course shows the beauty of Daisetsuzan's full-length. The Ainu people called the mountaintop of Daisetsuzan KAMUIMINTARA, which means the garden where Gods play. It takes approximately 1 hour to walk all the way around Sugatami Pond. We hope that you will enjoy this special walking trail.
Time required / distance

Approximately 1 hour around the pond※ / approximately 1.7km (1mile)

The time taken to walk the course can vary greatly depending on weather conditions and personal fitness. Please note the time above is only for reference.

Mountain gear

Mountain shoes or shoes with thick soles, waterproof outfits or long- sleeved jacket, etc.

※Boot rentals are available at Summit station. For more information, please feel free to ask the staff.